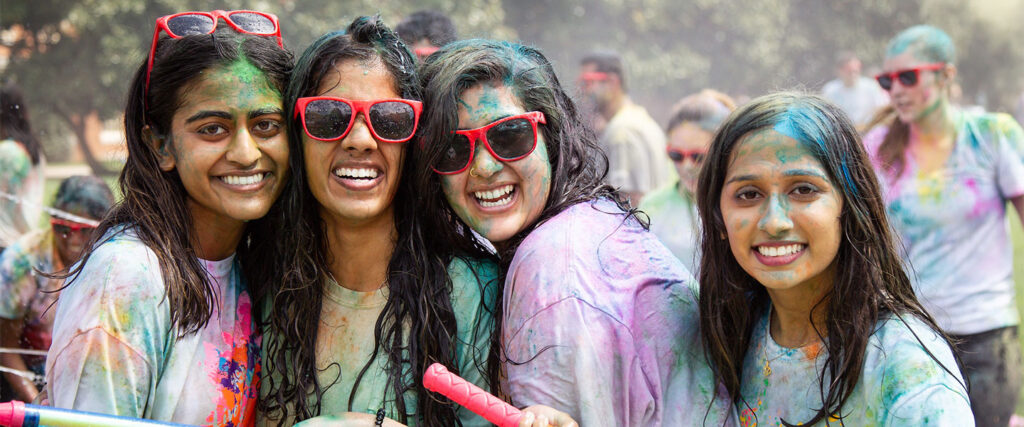 Join Us for MOSAIC April 13-14!
MOSAIC is an overnight experience that allows you to meet current students and faculty, as well as admitted students from diverse backgrounds. It will feature the following:
Panel discussion
Class simulation
Student-centered activities
Opportunity to chat with financial aid representatives
We hope you'll get to know us a little better!
---
Schedule
MOSAIC is happening Thursday, April 13 – Friday, April 14. Attendees are encouraged to stay and join us for the Diversity and Inclusion Breakfast the following morning and attend Campus Day that day (Friday, April 14).
Registration
2:30 p.m. | Porter Byrum Welcome Center
We look forward to greeting you and checking over your information to make sure your visit goes smoothly! Admissions representatives will be ready to answer any questions you have about MOSAIC events. It's a great day to be a Deac!
Financial Aid Office Hours (Optional)
3-5 p.m. | 4 Reynolda Hall
Drop in during this time to meet with financial aid representatives to learn more about how Wake Forest is affordable.
Campus Tour (Optional)
3-3:45 p.m. | Wake Forest Campus
Lace up your walking shoes, and join us for a student-led tour of our beautiful campus. You'll explore your new campus home and picture yourself in what will soon become some of your favorite places. Some highlights: Benson University Center, Wait Chapel, and the Magnolia Quad.
Mock Classes (Optional)
3:45-4:30 p.m. | Porter Byrum Welcome Center
Experience what it's like to have your worldview expanded by a Wake Forest professor. You'll have the opportunity to attend a mock class taught by professors representing a range of academic areas. You will be able to participate in the class.
MOSAIC Program Start
5-6 p.m. | Porter Byrum Welcome Center
We will gather together to hear from members of the Office of Undergraduate Admissions and Wake Forest administrators to congratulate you on your achievements and further explain why we know you are a perfect fit for the Wake Forest Class of 2027.
Wake Student Panel and Campus Life Panel for Parents
6-6:30 p.m. | Porter Byrum Welcome Center
For admitted students: hear directly from current students who will share about their Wake Forest experience. Come prepared with questions. They'll be more than happy to speak with you.
---
6-6:30 p.m. | Porter Byrum Welcome Center
For parents of admitted students: you will attend a panel discussion including administrators from Campus Life, Student Health, and the Office of Diversity and Inclusion.
---
6:45-7 p.m. | Porter Byrum Welcome Center
Admitted students will meet with their WFU hosts and head over to "The Pit" for dinner.
Dinner at "The Pit"
7-8 p.m. | "The Pit" (Reynolda Hall)
Enjoy a meal at "The Pit." It's called that because it's located in the basement of Reynolda Hall, but the food is top-notch. Great exhibition cooking, ethnic dishes, American favorites, and a variety of healthy options all combine to create a state-of-the-art dining program.
Evening Social at the Sutton Center
8-9:30 p.m. | Sutton Center
Let's continue getting to know each other better! The Sutton Center is a favorite for Wake Forest students, and it's sure to become one of your favorite hang-outs too. Here, we'll have games, icebreakers, and a mini-fair featuring campus student groups.
Diversity and Inclusion Breakfast (April 14th)
7-8:15 a.m. | Porter Byrum Welcome Center
The Diversity and Inclusion Breakfast will introduce students and their families to the diverse infrastructure that supports inclusion at Wake Forest. The breakfast will be at 7 a.m. on campus and will include formal presentations and informal engagement.
---
Overnight Stay in a Residence Hall
Live like a Demon Deacon! Spend the night in a residence hall with a current student. They are ready to open their campus home to you.
---
How to Register
The deadline for registration is Thursday, April 7. There is no charge for the MOSAIC program; student meals and housing on campus are covered.
Register for MOSAIC
An overnight experience for admitted students of diverse backgrounds.
Campus Day
Join us for Campus Day for admitted students on Friday, April 14!