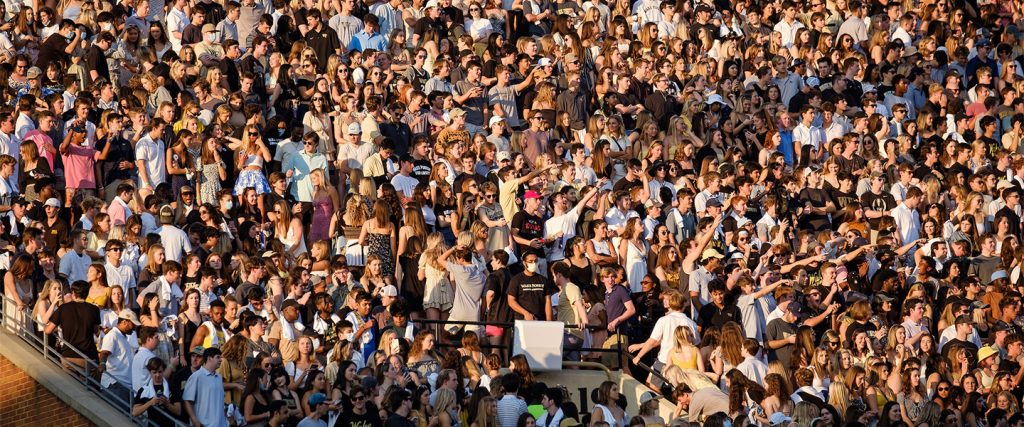 And the Crowd Goes Wild!
Wake Forest University proudly competes in the NCAA Division I Atlantic Coast Conference. As a founding member of the ACC, Wake Forest Demon Deacon teams have won nine national championships in five sports, including men's tennis and men's soccer. Our football and basketball teams practice and perform in the state-of-the-art Sutton Center, LJVM Coliseum, and Truist Field. The football, baseball, and men's and women's basketball teams play about a mile away on Deacon Boulevard. All athletic tickets are free and guaranteed to all students.
Across Wake Forest Road is Kentner Stadium, home of our three-time NCAA field hockey champions and our track teams. Kentner is one of two major sports venues on this campus. The other is Spry Stadium, which an ncaa.com fan survey recently called one of the nation's best spots to watch college soccer.
And many students join the Screamin' Demons to cheer on their teams. It's the largest student organization on campus and gives Wake Forest students special access to sporting events. They have helped the Division I Demon Deacons to national prominence in the nation's toughest conference: the ACC.
Finally, 90 percent of Wake Forest undergraduates participate in at least one intramural team or individual sport.
Did You Know?

The NCAA-measured student-athlete graduation rate at Wake Forest is 96%, according to the November 2022 report.
What's next?
Keep Exploring
Exciting things happen at Wake Forest every day! Check out additional topics to discover your niche and where you'll leave your mark as a Demon Deacon. Learn more about affordability and explore our residence halls.
---
Secure Your Seat
Learn more about how to enroll and make your deposit.
---
Register for Campus Days
Welcome home, Deac! Are you ready for a sneak peek into your next four years? Join us for Campus Day on either Monday, April 10, or Friday, April 14. It's your chance to explore the Forest and get a feel for what makes this place so special.
---
Connect with Students and Faculty
Start a conversation with a current Wake Forest student or faculty member. We'll send you a text to see which majors you're interested in, and we'll make the connection!
WFU27 Resources

Virtual Campus Tour
Take a virtual tour to get to know our campus better.

The Facts about Wake
Download our Viewbook or visit our facts and stats page to see what makes Wake Forest special.

Questions?
Reach out to your regional dean, who will be more than happy to answer them.