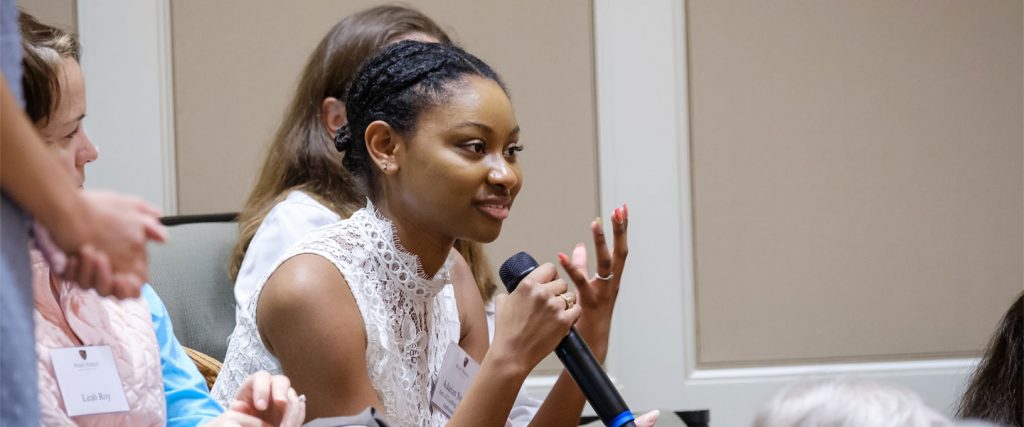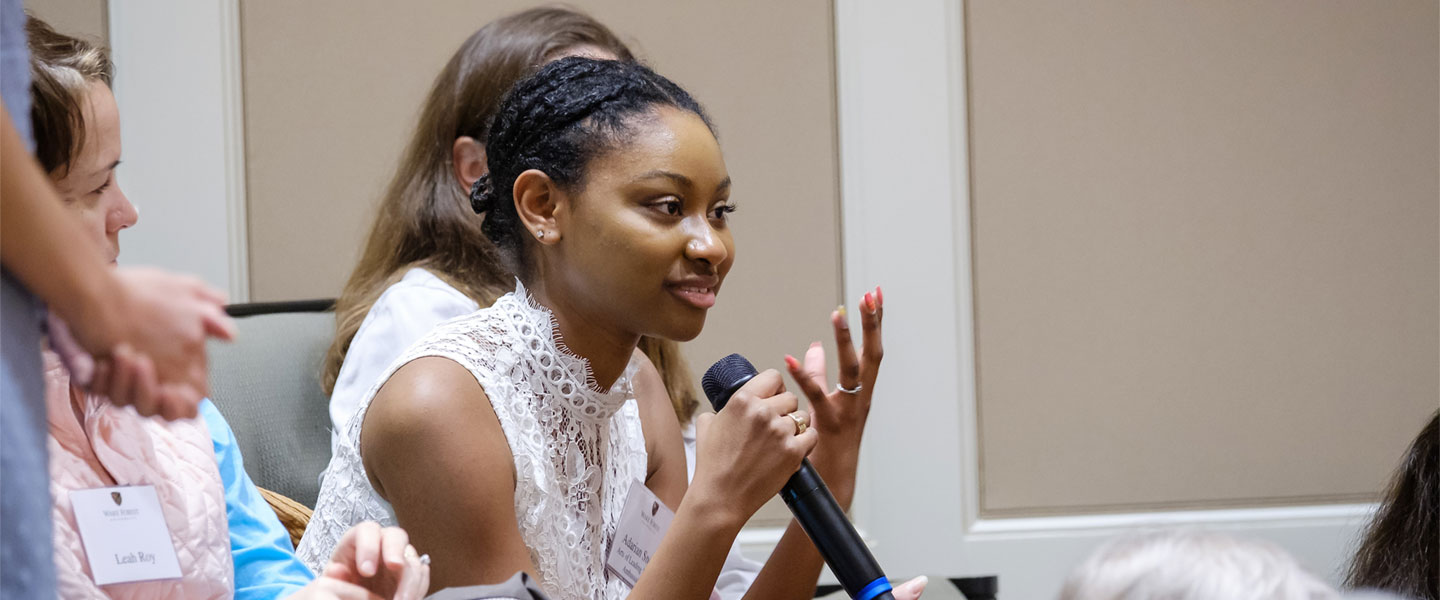 Character at the Center of Leadership
The Program for Leadership and Character helps students think about how to live better. We teach students that leadership is the capacity to inspire, support, and influence others to work toward a shared purpose and that character is the set of virtues that enables us to lead authentic, integrated lives that promote the flourishing of individuals and communities.
Our program uses innovative teaching, creative programming, and cutting-edge research to transform the lives of students, foster an inclusive culture of leadership and character at Wake Forest, and catalyze a broader public conversation that places character at the center of leadership.
Wake Forest awards scholarships to Leadership and Character Scholars. These are students committed to developing their leadership and character at Wake Forest. The Leadership and Character Scholars Program is designed to strengthen students' sense of community, inform their values and vocation, and prepare them to serve their communities well beyond our campus.
As part of our mission to effect a broader conversation around character-centered leadership, we host conferences in partnership with the Oxford Character Project that feature leaders and scholars in a variety of fields and disciplines. Last year's conference, "Character and the Professions," included former Secretaries of State Madeleine Albright and Colin Powell, along with distinguished scholars and practitioners in law, medicine, business, religion, public life, diversity and inclusion, and engineering and technology.
Did You Know?

There are 30 academic classes supported or created by the Program for Leadership and Character during the 2020-21 academic year.
What's next?
Keep Exploring
Exciting things happen at Wake Forest every day! Check out additional topics to discover your niche and where you'll leave your mark as a Demon Deacon. Learn more about affordability and explore our residence halls.
---
Secure Your Seat
Learn more about how to enroll and make your deposit.
---
Attend an Event
We will be hosting in-person panel conversations, student-led campus tours, and webinars, all designed just for you.
For more information, check out our events for accepted students.
---
Connect with Students and Faculty
Start a conversation with a current Wake Forest student or faculty member. We'll send you a text to see which majors you're interested in, and we'll make the connection!
---
Share Your Excitement!
Let everyone know you chose to make the Forest your home by using #WFU26. Then, if you haven't already, be sure to follow Wake Forest Admissions on Instagram.
WFU26 Resources

Virtual Campus Tour
Take a virtual tour to get to know our campus better.

The Facts about Wake
View our Viewbook or visit our About site to see what makes Wake Forest special.

Questions?
Reach out to your regional dean, who will be more than happy to answer them.