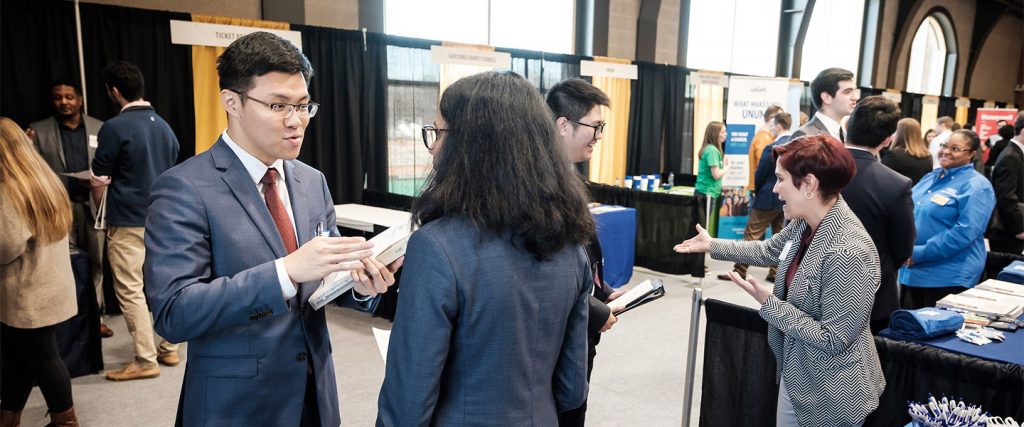 Your Best Work
Most of us need a job, and Wake Forest will help you achieve that – but also much more:
We'll help you find a context in which you may do your best work.
Wake Forest University's Office of Personal and Career Development (OPCD) equips students with the tools and confidence to navigate the often daunting path from college to career.
And our unique approach yields results.
For nine consecutive years, at least 96% of students in each graduating class were employed or in graduate school within six months of graduation. Additionally, we're one of very few top national universities to offer five college-to-career courses for credit. The OPCD developed Ready7, a step-by-step process that gives students a clear set of accomplishable actions to be prepared, confident, and ready for career and life.
Students engage with employers through hundreds of experiences, including industry-specific Career Treks, career fairs, "boot camps," and diversity recruiting events. After graduation, students will continue to be supported throughout their careers by the national-award-winning Alumni Personal and Career Development Center.
Early and intentional engagement: that's the philosophy of the OPCD – and Wake Forest as a whole.
Get ready to be inspired, challenged, and prepared for your future by engaging with the OPCD team from Day One.
Did You Know?

Over the past 10 years, 96% of graduates have been employed or in grad school within nine months of receiving their degrees.
What's next?
Keep Exploring
Exciting things happen at Wake Forest every day! Check out additional topics to discover your niche and where you'll leave your mark as a Demon Deacon. Learn more about affordability and explore our residence halls.
---
Secure Your Seat
Learn more about how to enroll and make your deposit.
---
Register for Campus Days
Welcome home, Deac! Are you ready for a sneak peek into your next four years? Join us for Campus Day on either Monday, April 10, or Friday, April 14. It's your chance to explore the Forest and get a feel for what makes this place so special.
---
Connect with Students and Faculty
Start a conversation with a current Wake Forest student or faculty member. We'll send you a text to see which majors you're interested in, and we'll make the connection!
WFU27 Resources

Virtual Campus Tour
Take a virtual tour to get to know our campus better.

The Facts about Wake
Download our Viewbook or visit our facts and stats page to see what makes Wake Forest special.

Questions?
Reach out to your regional dean, who will be more than happy to answer them.