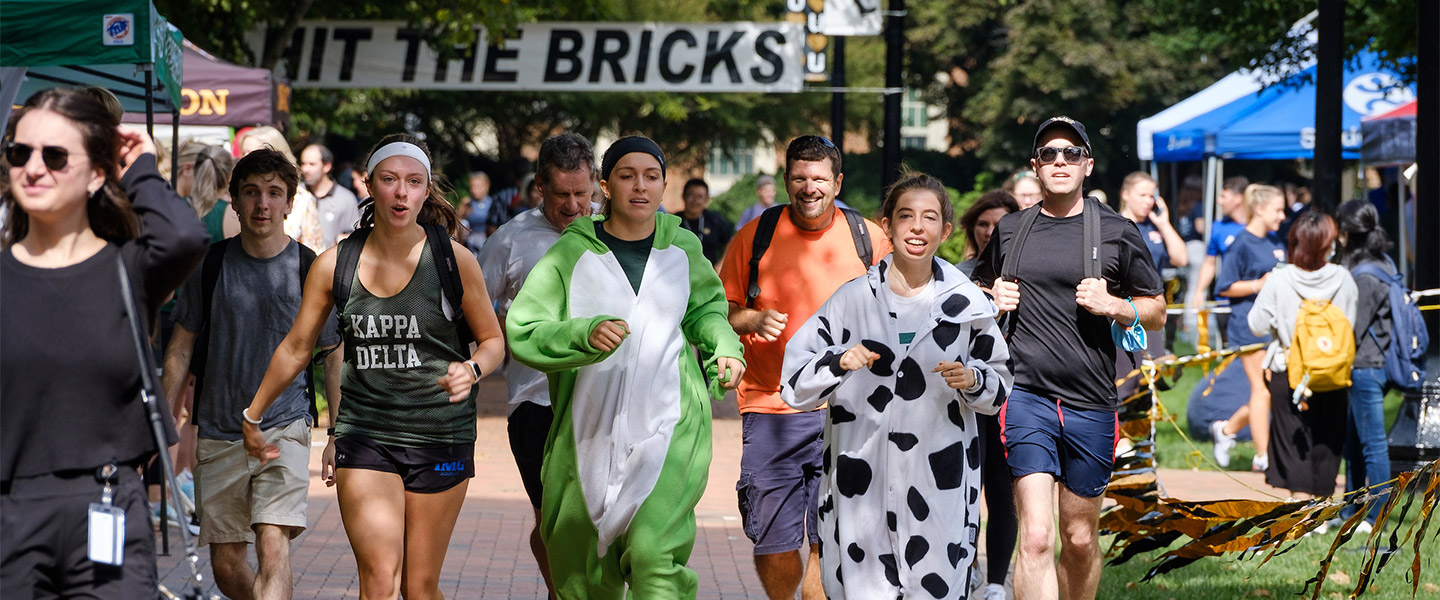 For Humanity
Pro Humanitate, "for humanity," is our guiding philosophy and university motto. Wake Foresters embody the motto in myriad ways – by creating art, conducting research, mentoring peers, or connecting with others in the local community. In his piece The Meaning of a Motto, professor James Powell notes, "Pro Humanitate calls us to consider what we are as human beings and what constitutes genuine human flourishing."
The idea of Pro Humanitate is at the center of the Wake Forest experience. As the hub of community-based activity at Wake Forest, the Office of Civic & Community Engagement (OCCE) offers multiple pathways to involvement. Whether you are interested in leading philanthropic programs like Hit the Bricks and Wake 'N Shake; tutoring school children; fighting food insecurity through the Campus Kitchen; or advocating for a cause, the OCCE will help you put our motto into action.
Did You Know?

Since 1980, the 'Hit the Bricks' cancer research fundraiser has raised more than $3 million for cancer research.
What's next?
Keep Exploring
Exciting things happen at Wake Forest every day! Check out additional topics to discover your niche and where you'll leave your mark as a Demon Deacon. Learn more about affordability and explore our residence halls.
---
Secure Your Seat
Learn more about how to enroll and make your deposit.
---
Register for Campus Days
Welcome home, Deac! Are you ready for a sneak peek into your next four years? Join us for Campus Day on either Monday, April 10, or Friday, April 14. It's your chance to explore the Forest and get a feel for what makes this place so special.
---
Connect with Students and Faculty
Start a conversation with a current Wake Forest student or faculty member. We'll send you a text to see which majors you're interested in, and we'll make the connection!
WFU27 Resources

Virtual Campus Tour
Take a virtual tour to get to know our campus better.

The Facts about Wake
Download our Viewbook or visit our facts and stats page to see what makes Wake Forest special.

Questions?
Reach out to your regional dean, who will be more than happy to answer them.