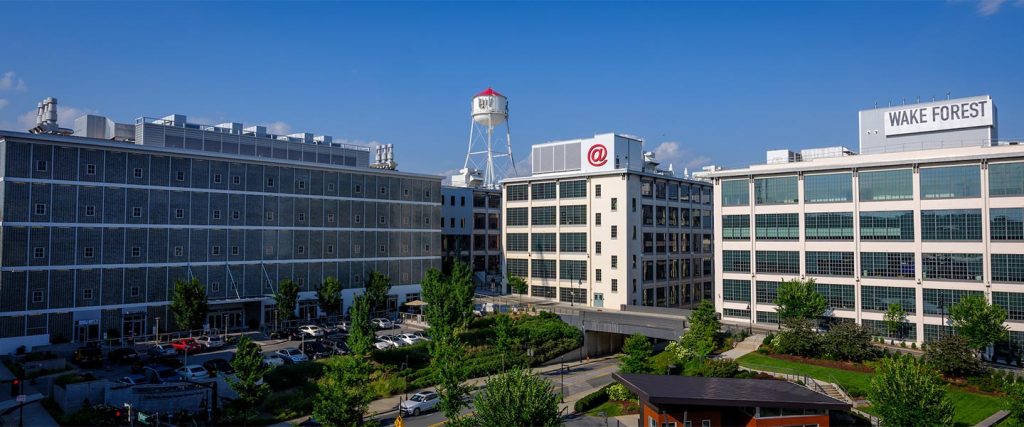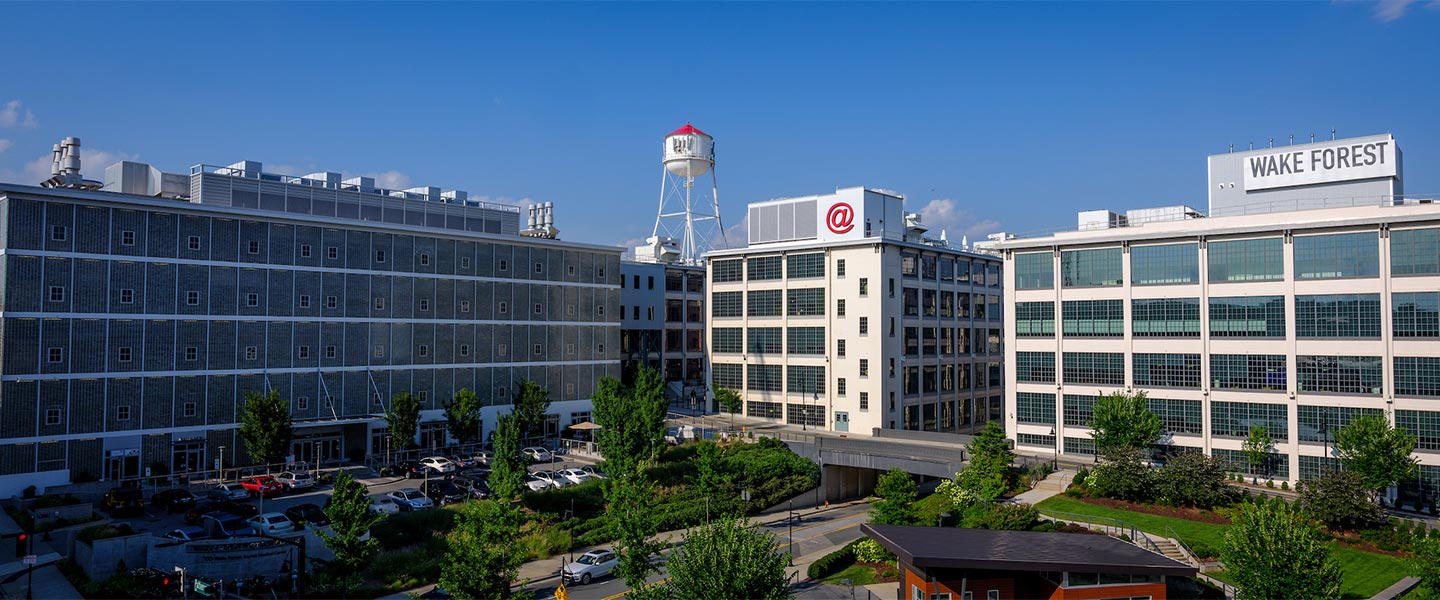 Get It Down(town) to a Science!
Wake Downtown is the 151,000-square-foot home of Engineering, Biochemistry and Molecular Biology, and the concentration in Medicinal Chemistry, located in the heart of downtown Winston-Salem. Our downtown facilities feature hands-on teaching labs, project-based studios, and advanced research labs.
Wake Downtown is in the same building as the Wake Forest Bowman Gray School of Medicine. BioTech Place and the Wake Forest Institute of Regenerative Medicine are just a short walk away; therefore, undergraduates have access to a variety of settings for volunteer work and clinical shadowing in addition to research.
And we're not only STEM! Street Photography, Urban Planning, Literature of the City, and a variety of other courses are taught at Wake Downtown, as it is the ideal location for exploration both in- and outside the classroom. Plenty of community events take place in this area too, ranging from the Maya Angelou Garden Party to local charity fundraising events, community yoga classes, concerts, and more.
Backed by our historical liberal-arts core, the program marries engineering, aesthetics, and our commitment to public service. What do we see? A student developing an artificial limb with the functionality derived from engineering and the form inspired by studio art. It's an engaged brand of engineering that transcends science and math, and enters into a realm of limitless possibility that benefits humanity.
It's all a short – and free! – ride from campus. A Wake Forest University shuttle runs between Reynolda Campus and Wake Downtown year-round.
Come visit us! Submit a request form for an on-site tour. Tours are currently being conducted on Fridays at 1 p.m. Self-guided tours are encouraged as well, and these can be done Monday-Friday, 8 a.m.-5:30 p.m. Brochures and walking-tour map materials are available at our lobby desk. We have QR codes posted throughout the building, which highlight the various features of the building, research taking place, and the academic programs housed here at Wake Downtown.
Did You Know?

One out of every three students in the Class of 2020 took at least one class at Wake Downtown.
What's next?
Keep Exploring
Exciting things happen at Wake Forest every day! Check out additional topics to discover your niche and where you'll leave your mark as a Demon Deacon. Learn more about affordability and explore our residence halls.
---
Secure Your Seat
Learn more about how to enroll and make your deposit.
---
Attend an Event
We will be hosting in-person panel conversations, student-led campus tours, and webinars, all designed just for you.
For more information, check out our events for accepted students.
---
Connect with Students and Faculty
Start a conversation with a current Wake Forest student or faculty member. We'll send you a text to see which majors you're interested in, and we'll make the connection!
---
Share Your Excitement!
Let everyone know you chose to make the Forest your home by using #WFU26. Then, if you haven't already, be sure to follow Wake Forest Admissions on Instagram.
WFU26 Resources

Virtual Campus Tour
Take a virtual tour to get to know our campus better.

The Facts about Wake
View our Viewbook or visit our About site to see what makes Wake Forest special.

Questions?
Reach out to your regional dean, who will be more than happy to answer them.