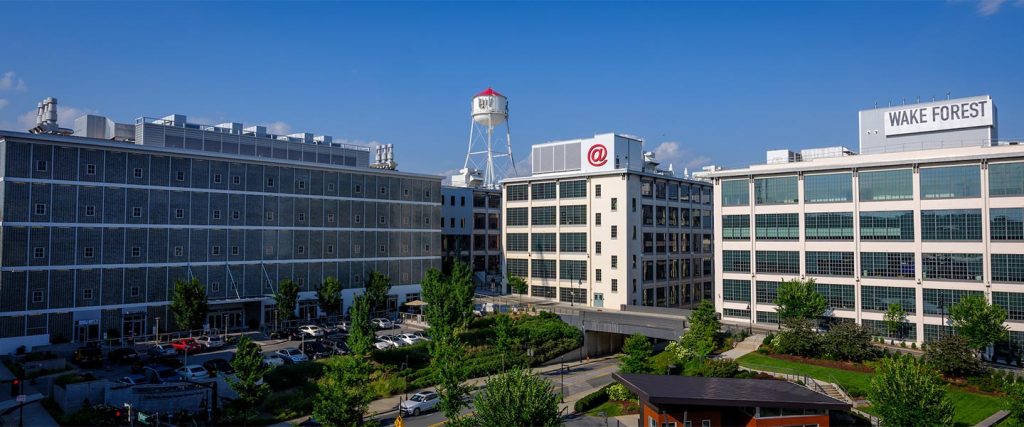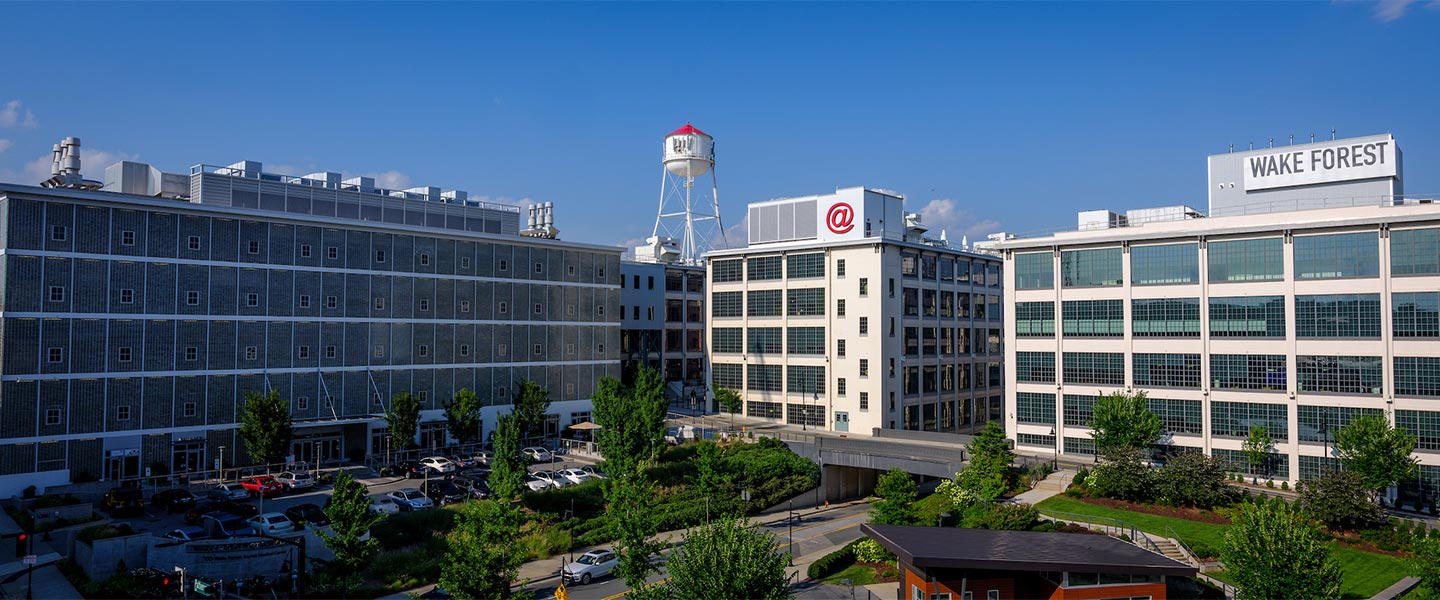 Get It Down(town) to a Science!
Nestled in a repurposed RJ Reynolds Tobacco Company manufacturing plant, Wake Downtown is the 151,000-square foot home of innovative teaching spaces, advanced research laboratories and project-based studios. Wake Downtown anchors three programs–Engineering, Biochemistry and Molecular Biology, and Medicinal Chemistry and Drug Discovery–in the heart of downtown Winston-Salem in a district known as the Innovation Quarter.
With Biotech Place and the Wake Forest Institute for Regenerative Medicine just steps away, undergraduates have the opportunity to perform research in a variety of settings. Not to mention that housed in the very same building as Wake Downtown is the Wake Forest University School of Medicine Bowman Gray Center for Medical Education, providing opportunities to collaborate with medical school faculty and students, as well as connections to clinical volunteering and shadowing.
As a host to rotating student art exhibitions in addition to courses in the arts and humanities, Wake Downtown is more than just STEM. Wake Downtown serves as an interdisciplinary hub, offering courses like Literature of the City, Movement and the Molecular, and Street Photography in the same building where Virology, Tissue Engineering, and Computer Aided Design are taught. It reimagines how a strong liberal arts background can enhance an education in Engineering and the Biomedical Sciences.
A short and convenient shuttle ride from campus, Wake Downtown brings students into Winston-Salem's vibrant urban scene. In the downtown area, you'll find art-walks, festivals, bike races, concerts, community yoga, and over 80 restaurants, coffee shops, and bakeries. Wake Downtown offers additional connection points to the community, with students tackling local problems through their senior capstones, using 3-D printing to produce prosthetic arms, and volunteering through our STEM mentoring programs.
Come visit us!
Tours are currently being conducted on Mondays and Fridays at 1 p.m. Self-guided tours are encouraged as well, and these can be done Monday-Friday, 8 a.m.-5:30 p.m. Brochures and walking-tour map materials are available at our lobby desk. We have QR codes posted throughout the building, which highlight the various features of the building, the research taking place, and the academic programs housed here at Wake Downtown.
Did You Know?

41% of graduates in the Class of 2020 took at least one class at Wake Downtown.
What's next?
Keep Exploring
Exciting things happen at Wake Forest every day! Check out additional topics to discover your niche and where you'll leave your mark as a Demon Deacon. Learn more about affordability and explore our residence halls.
---
Secure Your Seat
Learn more about how to enroll and make your deposit.
---
Register for Campus Days
Welcome home, Deac! Are you ready for a sneak peek into your next four years? Join us for Campus Day on either Monday, April 10, or Friday, April 14. It's your chance to explore the Forest and get a feel for what makes this place so special.
---
Connect with Students and Faculty
Start a conversation with a current Wake Forest student or faculty member. We'll send you a text to see which majors you're interested in, and we'll make the connection!
WFU27 Resources

Virtual Campus Tour
Take a virtual tour to get to know our campus better.

The Facts about Wake
Download our Viewbook or visit our facts and stats page to see what makes Wake Forest special.

Questions?
Reach out to your regional dean, who will be more than happy to answer them.