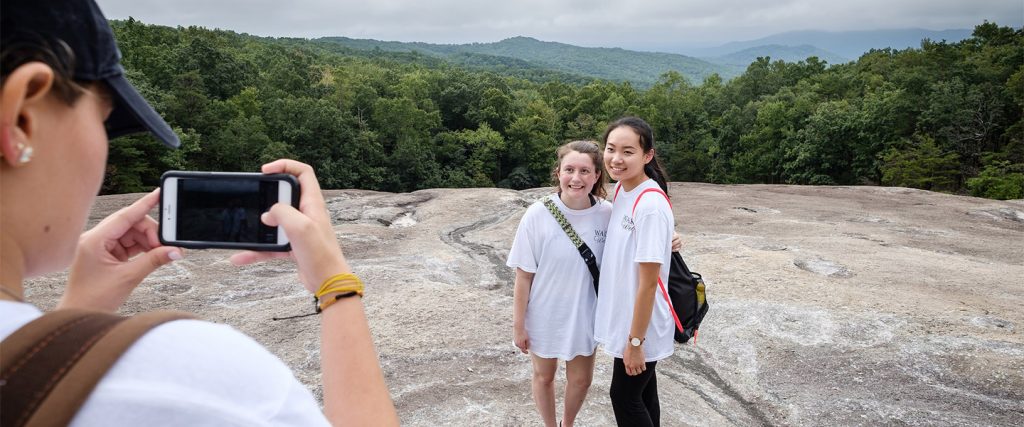 You, Wellbeing, and Possibility!
Wellbeing has a host of meanings, and we want you to consider all of them so that you may actualize your full potential.
Wake Forest's Office of Wellbeing – and, in particular, our THRIVE program – addresses each of those dimensions: from the physical to the emotional to the intellectual to the social and beyond.
The Office of Wellbeing leads the campus in making wellbeing a part of every experience. Through THRIVE, the Office of Wellbeing addresses eight dimensions to help you to cope with adversity through resilience, to build rewarding relationships, and to live with a sense of purpose. Wake Forest offers students free sessions with certified health coaches. These one-on-one meetings provide support and accountability to reach your health and wellbeing goals. Additionally, the Sutton Center and Reynolds Gymnasium offer indoor basketball courts, an eight-lane indoor pool, bouldering and climbing walls, cardio- and strength-training spaces, and more. There's also a game room to enjoy air hockey, darts, and beanbag toss. Finally, many students enjoy the aromatherapy room where you can relax and mix your own aromatherapy sprays.
Our goal: to assist our students in leading healthy and balanced lives.
We look forward to seeing you thrive here!
Did You Know?

The Wake Forest Wellbeing Center was one of only 10 venues honored in 2019 with an Outstanding Facility Award by the National Intramural and Recreational Sports Association (NIRSA).
What's next?
Keep Exploring
Exciting things happen at Wake Forest every day! Check out additional topics to discover your niche and where you'll leave your mark as a Demon Deacon. Learn more about affordability and explore our residence halls.
---
Secure Your Seat
Learn more about how to enroll and make your deposit.
---
Attend an Event
We will be hosting in-person panel conversations, student-led campus tours, and webinars, all designed just for you.
For more information, check out our events for accepted students.
---
Connect with Students and Faculty
Start a conversation with a current Wake Forest student or faculty member. We'll send you a text to see which majors you're interested in, and we'll make the connection!
---
Share Your Excitement!
Let everyone know you chose to make the Forest your home by using #WFU26. Then, if you haven't already, be sure to follow Wake Forest Admissions on Instagram.
WFU26 Resources

Virtual Campus Tour
Take a virtual tour to get to know our campus better.

The Facts about Wake
View our Viewbook or visit our About site to see what makes Wake Forest special.

Questions?
Reach out to your regional dean, who will be more than happy to answer them.